Wordscapes Level 2464 answers
This page has all the answers you need to solve Wordscapes Breeze Level 2464 answers. We gathered together here all necessities – answers, solutions, walkthroughs and cheats for entire set of 1 levels. Using our website you will be able to quickly solve and complete Wordscapes game. We are here to help and published all Wordscapes Breeze Level 2464 answers , so you can quickly step over difficult level and continue walkthrough.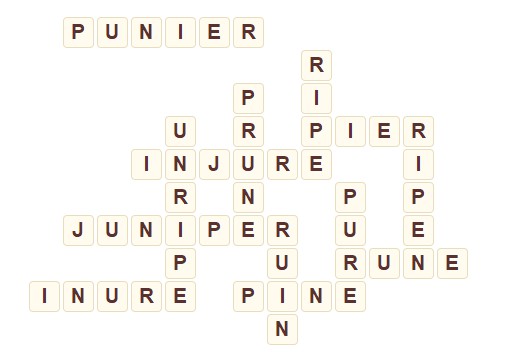 The words for this game level are:
PIER, PINE, PURE, RIPE, RUIN, RUNE, RIPEN, PRUNE, INURE, INJURE, PUNIER, UNRIPE, JUNIPER
Next levels
Go back to Tide - Breeze
---
What other are searching:
Deeom
,
Sp222
,
LEVel
,
ectnm
,
ApplO
,
LEVEL
,
Igoel
,
Coatc
,
Packa
,
ecsry
,
AUnsf
,
HARD
,
Sadeo
,
/slee
,
RAIDC
,
Handf
,
FCEPE
,
20869
,
Ringe
,
Vatdu
Loading comments...please wait...
More games and answers