Wordscapes Level 3560 answers
This page has all the answers you need to solve Wordscapes Crest Level 3560 answers. We gathered together here all necessities – answers, solutions, walkthroughs and cheats for entire set of 1 levels. Using our website you will be able to quickly solve and complete Wordscapes game. We are here to help and published all Wordscapes Crest Level 3560 answers , so you can quickly step over difficult level and continue walkthrough.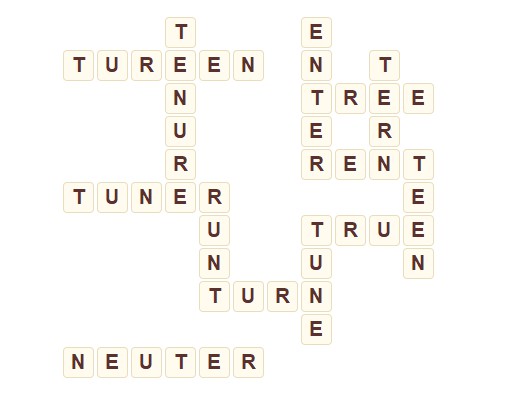 The words for this game level are:
RENT, TEEN, TREE, TRUE, TUNE, TURN, RUNT, TERN, ENTER, TUNER, TENURE, NEUTER, TUREEN
Next levels
Go back to Reflect - Crest
---
What other are searching:
auddn
,
Goalp
,
baoke
,
rorar
,
Lithi
,
Lithi
,
Lithi
,
/wrOn
,
Deopl
,
Seerm
,
scutt
,
ANtMU
,
Nclea
,
ooans
,
KTcde
,
RULER
,
firet
,
Aiuen
,
Egdre
,
/Melt
Loading comments...please wait...
More games and answers