Wordscapes Level 2360 answers
This page has all the answers you need to solve Wordscapes Dawn Level 2360 answers. We gathered together here all necessities – answers, solutions, walkthroughs and cheats for entire set of 1 levels. Using our website you will be able to quickly solve and complete Wordscapes game. We are here to help and published all Wordscapes Dawn Level 2360 answers , so you can quickly step over difficult level and continue walkthrough.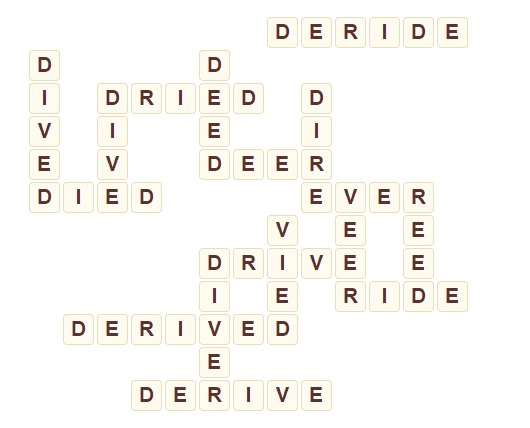 The words for this game level are:
DEED, DEER, DIED, DIRE, DIVE, EVER, REED, RIDE, VEER, VIED, DIVER, DRIED, DRIVE, DIVED, DERIVE, DERIDE, DERIVED
Next levels
Go back to Arid - Dawn
---
What other are searching:
2360
,
Lloot
,
xnata
,
tubeq
,
Ctioe
,
Lloot
,
Lloot
,
Prent
,
REBOO
,
ooman
,
fwnlo
,
Nhrus
,
Solid
,
Niroe
,
UUNTE
,
Feiyt
,
reevd
,
escri
,
usrlo
,
Scien
Loading comments...please wait...
More games and answers