Wordscapes Level 2010 answers
This page has all the answers you need to solve Wordscapes Fresh Level 2010 answers. We gathered together here all necessities – answers, solutions, walkthroughs and cheats for entire set of 1 levels. Using our website you will be able to quickly solve and complete Wordscapes game. We are here to help and published all Wordscapes Fresh Level 2010 answers , so you can quickly step over difficult level and continue walkthrough.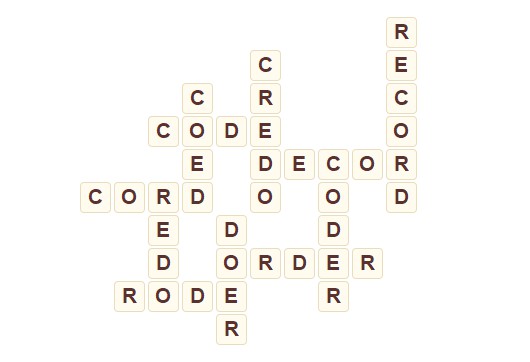 The words for this game level are:
CODE, CORD, RODE, COED, REDO, DOER, CODER, ORDER, DECOR, CREDO, RECORD
Next levels
Go back to Coast - Fresh
---
What other are searching:
EOCCS
,
29797
,
Eeelr
,
ScaSb
,
Eezfr
,
Ssroa
,
creat
,
rscio
,
Swimm
,
Fille
,
I eht
,
steed
,
Abell
,
/ rew
,
naurt
,
24550
,
Etbrh
,
Aoeln
,
broke
,
FROST
Loading comments...please wait...
More games and answers