Wordscapes Level 3864 answers
This page has all the answers you need to solve Wordscapes Leaf Level 3864 answers. We gathered together here all necessities – answers, solutions, walkthroughs and cheats for entire set of 1 levels. Using our website you will be able to quickly solve and complete Wordscapes game. We are here to help and published all Wordscapes Leaf Level 3864 answers , so you can quickly step over difficult level and continue walkthrough.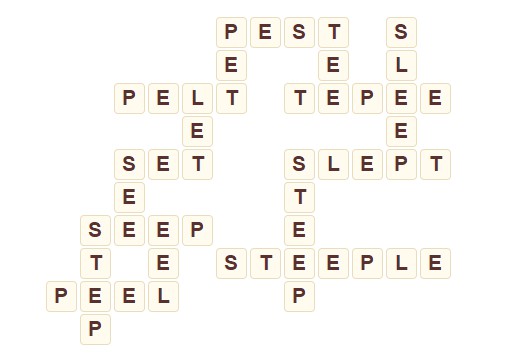 The words for this game level are:
LET, PET, SEE, SET, TEE, EEL, PEEL, PEST, STEP, PELT, SEEP, SLEEP, SLEPT, STEEP, TEPEE, STEEPLE
Next levels
Go back to Green - Leaf
---
What other are searching:
Ripel
,
imdpl
,
vasie
,
Rengg
,
ectre
,
Cocan
,
itiet
,
earnc
,
cevaa
,
SPCIO
,
Meter
,
sagao
,
YAYNR
,
beadd
,
Trogi
,
Wekea
,
gnpaa
,
WVLei
,
unrhc
,
NULSA
Loading comments...please wait...
More games and answers