Wordscapes Level 614 answers
This page has all the answers you need to solve Wordscapes Vivid Level 614 answers. We gathered together here all necessities – answers, solutions, walkthroughs and cheats for entire set of 1 levels. Using our website you will be able to quickly solve and complete Wordscapes game. We are here to help and published all Wordscapes Vivid Level 614 answers , so you can quickly step over difficult level and continue walkthrough.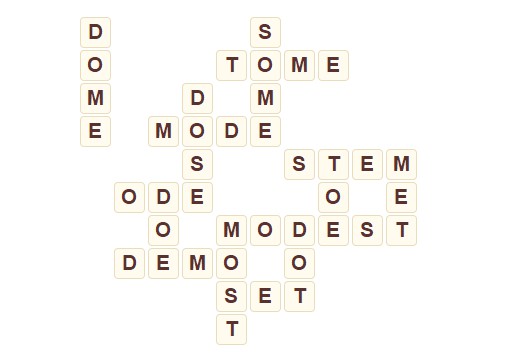 The words for this game level are:
DOT, MET, SET, TOE, DOE, ODE, DEMO, DOME, DOSE, MODE, MOST, SOME, STEM, TOME, MODEST
Next levels
Go back to Autumn - Vivid
---
What other are searching:
clee
,
Urrvn
,
Nuros
,
tufld
,
lwcol
,
Emoti
,
sonan
,
ciete
,
Veeer
,
Ended
,
98796
,
redne
,
EEcjt
,
rasta
,
Chick
,
Saloo
,
Biol
,
Saloo
,
Revel
,
choma
Loading comments...please wait...
More games and answers